=== ===
Overview
---
Welcome to the Mythic Heroes Wiki, a collaborative encyclopedia that anyone can edit. The wiki serves as a repository of articles summarizing information about significant characters, locations, quests, items, factions, mechanics and lore concepts.
Mythic Heroes takes place in the Ascension Realm, a realm for those who throughout history that have risen to the rank of legendary. There are many Gods in the Ascension Realm, but also many mortals who have been recognized for their strength or valor. The portal to this realm is the colossal Infinity Tree.
Factions
In the Ascension Realm there are currently four factions: Luminarchs, Shadowarchs, Guardians, and Verdians.
Locations
Astrolabe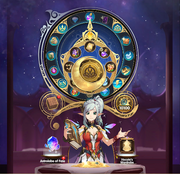 The most precious of items you have at your disposal is the
Astrolabe of Truth
. This arcane device was left by the Creator. It is now bound to the will of the Goddess, Hecate, and she is the "key" to it functioning for you. Go to the Astrolabe area to collect from your treasure pile and upgrade your
Cubes of Truth
.
Kingdom
As a Summoner, you can find many incredible places in the Kingdom, such as: the Summoner Sanctum, Arena, Guild (Wardragon, Blade Wraith, Coliseum, Guild Market, Fortune Altar, Wishing Fountain and Lobby) , Museum, Leaderboard, Marketplace, Alchemy Workshop, and Fable Agora.
Campaign
In the Campaign area, you can find areas such as the Campaign, Trials of Ascension, Hades' Hell, Zodiac Caverns, Pantheon, Ragnarok, or Divine Chronicles.
Heroes
In the Heroes area you can find the Heroes who you have summoned and reference their Portraits. In the Portraits area you can find the Heroes' Stories or you can test their skills in the "Trial forest." If you tap on the Heroes in the Heroes area, you have many choices to improve your warrior. You can Enhance , level up, or Ascend them. In this area, you can also preview their skills, Attributes, Factional Aura, and warrior class here. On the bottom you will see three more sub-areas: Divinity, Equipment, and eventually, Iconic Weapons.
Bag
In your Bag you can find many summoner items that you have collected in your journey so far. These items include Star Dust, Badge Chest Fragments, Adventurer Chest Fragments, Hero Chest Fragments, Mystery Chest Fragments, Artifact Fragments, Rune Fragments, Cube Fragments, Hero Shards, Hero Tokens, Gears of Time, Faith Badges, Divinity Gems, Soulseals, Artifacts and Runes.
Journal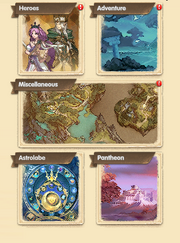 Go to your
Journal
and look through the Heroes, Adventure, Miscellaneous, Astrolabe or Pantheon section to see what achievements will provide you with extra resources. There are also
Daily and Weekly puzzle boards
which also provide additional rewards.
Hero Resources
Some items will not be stored within the Bag. Both Diamonds and Gold are kept on the Summoner.